Description
Wrought Iron Rooster Napkin Holder :: If there is one thing that can bring out the display and presentation of any dinner or dinner table setting, at least one of those things is a unique napkin holder with personality. Matching the decor around your kitchen with the decor on your table makes for a better presentation yet. Whether you are hosting a dinner party for a group of friends, having a summer fling outdoors, or just a regular family sit-down meal, a unified kitchen and dinner table decorating layout brings out the best in you, your home, and even the event that you are hosting. One of the reasons restaurants use the same setting on every table, down to the color of napkin they use, is because it makes for a more successful presentation overall, both for the food that is being served as well as the atmosphere it is being served in. You want that same kind of success in your kitchen and serving area everyday, and our rooster napkin holder will accent and emphasize the rest of your wrought iron rooster decor. Use our wrought iron rooster napkin holder in addition to our rooster kitchen magnet, our rooster paper towel holder, rooster light switch covers and outlet covers, and, most importantly for that impressive unified table setting decor, our wrought iron rooster napkin rings. All of these things combined, and several more within our wrought iron rooster decor selection, create a captivating, rustic country, cozy home that will make anyone will feel content and homey inside of. For those outdoor picnics and events, the rooster napkin holder is all the more celebratory and festive, because of the outdoor farm significance of the rooster itself, and the carefree, laid back country home easy feeling they conjure. Don't forget to look at all of our wrought iron rooster decor for your kitchen, home and garden.
Product Specifications
Item Height: 6 In.
Item Width: 2.25 In.
Item Length: 5.75 In.
Product Weight: 14 oz
Color: flat black
Packaging: Product is sold Individually (you are purchasing one item)
Material: wrought iron containing alloys of .01% to .29% carbon and iron
Finish: Hand crafted wrought iron for indoor or outdoor use. (heavy duty metal) in a flat powder coating finish :: lead free, long lasting & rust resistant
Country: MADE in the USA :: Supporting United States craftsman.
Customer Reviews
07/30/2020
Anna C.

United States
I'm In Love
I never knew I could love a napkin holder until I purchased this one. First of all, it's beautiful. It looks terrific on my table, and the craftsmanship is impeccable. Secondly (and most importantly) I can pack this thing full of napkins! It can hold a ton of them, AND when I go to grab one napkin I don't get another ten that come with it. The holder has a nice weight which keeps it from lifting off the table when you get your napkin. I'm telling you I'm in love with it and I don't care who knows it! Buy this napkin holder. Sincerely, A Happy Customer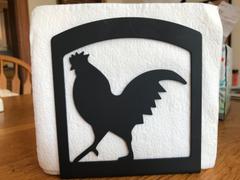 Wrought Iron Rooster Napkin Holder review
The item was well made and is very attractive.
01/01/2018
P. Carmichael

United States